Profile
Company Name

Otoufu Factory Ishikawa Co., Ltd.

Representative

Noburu Ishikawa, President

Takahama Corporate
Headquarters
and Production Center

1-204-21 Toyota-cho, Takahama-shi, Aichi-ken

Tokyo Sales Office

4-17-15 Jingumae, Shibuya-ku, Tokyo

Osaka Sales Office

1-17-5 higashinakashima, Higashiyodogawa-ku, Osaka-shi, Osaka-fu

Business Activities

Production and sale of tofu and processed soybean goods

Capital

99,000,000 Japanese Yen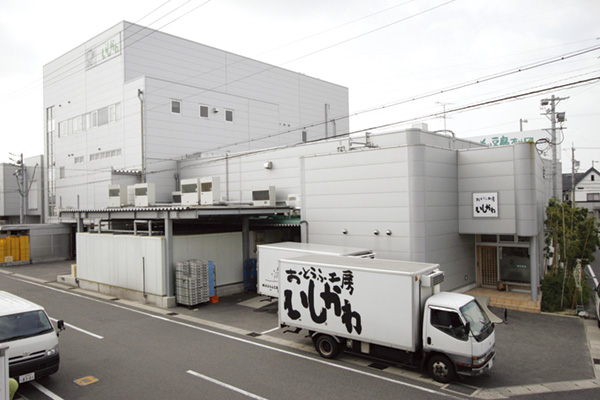 We look forward to welcoming our customers at every one of our stores so that they can experience each store's distinctive features.
Some of our stores also have restaurants inside.
Through our wholesale business, our products are shipped throughout Japan.
We have worked with approximately 400 companies.
We are also conducting OEM Production.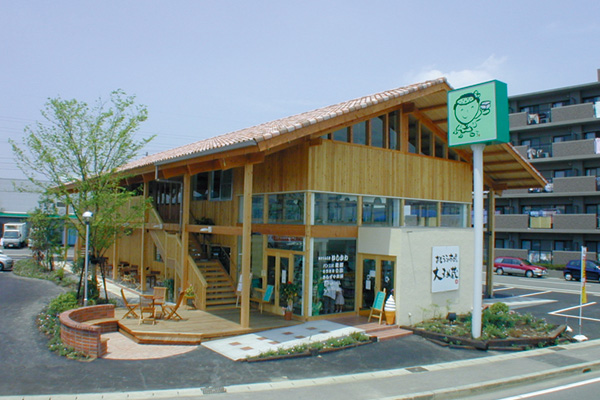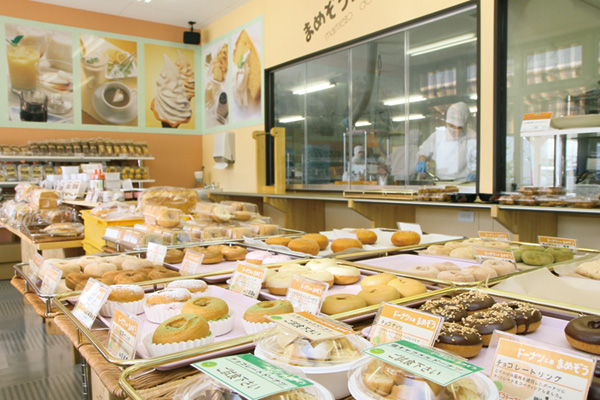 History & Awards
Corporate History

Commendations and Awards
From
Meiji Era

Company is established in Takatana-mura, Hekikai-gun (presently Takatana-cho, Anjo-shi) by company founder Kenzaburo Ishikawa

1933

Ginichi Ishikawa (second generation) moves the company to Yosamimura Hekikaigun (presently Ogakie-cho, Kariya-shi)

1937

Isao Ishikawa (third generation) moves the company to Ogakie-cho (presently Otoufu Memorial Hall) due to expansion

1991

Noburu Ishikawa (fourth generation) officially establishes Otoufu Factory Ishikawa as a limited company (yugen gaisha)

1999

The company officially becomes a corporation (kabushiki gaisha), Otoufu Factory Ishikawa Co., Ltd. Takahama Production Center is constructed in Toyota-cho, Takahama-shi; factory is moved

2000

"Toufuya Mamezou" is opened in Ozone, Nagoya Business of directly-managed stores commences

2004

New factory in Takahama is completed

2005

Dessert factory is established in Higashiura-cho, Chita-gun

2006

Tokyo Sales Office opens

2007

Mamezou mobile tofu sales commence

2009

Bread Factory is established in Higashiura-cho, Chita-gun

2010

Donut Factory is established in Yokoyama, Anjo-shi

2011

Deli Center is established in Hananoki, Nishio
2000

Superior Hometown Parcel Producer

2002

"Okara Pan" Nationwide Local Industry Excellence in Technique and Product Commendation

2004

Aichi Brand Company (Aichi Prefecture) Acknowledgement

2010

"Ultimate Softness" "Firmness" 2009 FOOD ACTION NIPPON AWARDS Product Division Award of Excellence

2010

"Kirazuage" Mondo Selection 2010 Silver Award

2010

"Daizu Kids Club" Cabinet Office, Dietary Education Promotion Volunteer Commendation

2011

" 'Rice Field' Purchase Everything! Ebetsu Agricultural Assistance Project" FOOD ACTION NIPPON AWARDS 2010 Awards: Manufacturing, Distribution, and Systems Division

2011

"Kyukyoku-no-kinu" Mondo Selection 2011 Gold Award
Company Infomation is here